By Nicole Abrego
"The most wonderful time of the year" is upon us. During the hustle and bustle of preparing holiday feasts, booking your flight to visit relatives and scouring online for the best deals on gifts, you realized you forgot one thing...where is Fido going to stay during the holidays?!
Whether you plan on having your pet join you during your holiday travels or stay with a trusted boarding service, it's important to be sure that your pet is prepped for the holiday season as to avoid any last minute headaches. Here's some tips on how to be sure that your pet is prepared for the holidays.
Are Vaccines Up to Date?
Vaccines play a vital role in keeping your pet safe from many infectious and potentially fatal diseases. In fact, many boarding and grooming facilities require that your pet is current on all their vaccines and you must provide documentation that your pet is current before visiting.
Some of the major required vaccines for dogs include:
Vaccines required for cats include:
Rabies vaccine (although not currently required by law, it is highly recommended that cats should receive a rabies vaccine.)
FVRCP - Feline viral rhinotracheitis, calicivirus and panleukopenia
FeLV - Feline Leukemia
FIP - Feline infectious peritonitis
Getting your pet in early to update their vaccines will help ease the stress of trying to get your pet an appointment during the middle of holiday plans. If you have any questions or need to see when your pet is due for their next vaccine, feel free to contact us today.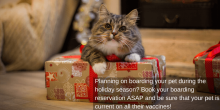 holiday pet
Keep Your Pet Parasite-Free
The last thing you want your pet to receive for the holidays are fleas and ticks. Make sure that your pet is on proper parasite control before they venture out with you to visit family or stay with a boarding service.
At The Drake Center, we recommend Bravecto and Sentinel to keep your pet parasite-free year round. Bravecto is available for both cats and dogs and will protect against fleas and ticks for up to 3 months. Sentinel is available for dogs and protects against fleas, heartworms and other external parasites. By keeping up with your pet's parasite prevention schedule, you can be sure to keep all of the hum-"bugs" from spoiling your holiday.
Have Your Pet Look Their Best With a Spa Day
Give your pet the gift of looking their best for the holidays! The Drake Center offers professional bathing services that will leave your dog looking and feeling clean and refreshed. We use shampoo best suited for your pet's coat type and skin health and offer medicated bathing services for dogs who experience various skin conditions that require special attention. Your pet's comfort is our top priority and we do our best to ensure that your pet has a wonderful bathing experience. Not to mention, they'll look great for your holiday family photos!
Boarding Your Pet? - Book Early!
Planning on boarding your pet during the holidays? Pro tip: book early! The holidays are an incredibly busy time for pet boarding services with the large influx of people traveling out of town to visit family.
The Drake Center offers professional boarding services provided by our highly-trained veterinary staff. Our staff will provide individual care for your pet during their stay, ensuring that your dog or cat will receive the love and attention that they deserve. We also offer specialized boarding for pets with extra needs, such as senior pets, puppies, and kittens. If you are planning on boarding your pet, we highly suggest that you book your pet's stay ASAP to ensure that they have a home away from home during the holidays.
Need to schedule your pet's next appointment or book their stay during the holidays. Contact us today!
The Drake Center for Veterinary Care is an AAHA-accredited animal hospital located in Encinitas, CA. The Drake Center loves being a source of information for all pet owners across the country however if you have any questions regarding pet care and do not live in Encinitas, CA or surrounding cities, we encourage you to contact your local veterinarian.