Take Your Pet to Work Week: How to Prep Your Work Place (and Pet!)
By Nicole Abrego
It's Take Your Pet to Work Week! While there's no doubt that there are benefits to having pets in the workplace, there are a few preparations to make before bringing Fido or Fluffy to the office. Here are 5 tips on how to prep your pet and office for Take Your Pet to Work Week.
Ask Permission:
As much as we would love to just bring our beloved pet from home to the workplace, you need to make sure that it's okay with the boss and follow coworkers. This is especially important since some coworkers may have allergies or have a fear of dogs or cats. As a courtesy, be mindful of your fellow workmates and respectful of their comfort when it comes to having pets in the workplace.
All Participating Pets Are Current On Vaccines and in Good Health
Now that you (hopefully) got permission to host a Take Your Pet to Work Day/Week event, it's time to plan it! Create a list of all participating pets and their owners and ensure that all pets are current on their vaccines, parasite-free, and in good health. The safety of all participating pets and owners needs to be a top priority and the last thing you would want is your pet getting sick or to have a flea/tick outbreak occur at the office.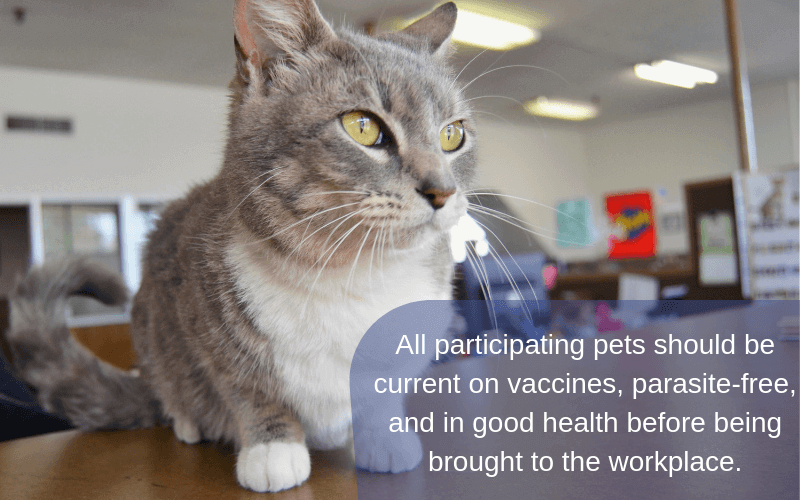 Making New Friends
If your pet is fearful of new people or tends to show signs of anxiety or stress in a new place, having your pet participate in Take Your Pet to Work Week may not be in their best interest. Keep in mind that there will be other dogs/cats in the office and if your pet is not comfortable around other pets then your pet should probably stay at home. This can also be true if your pet tends to get overly excited around new people and places. Don't forget that even with pets in the office, work still needs to get done. If your pet might be disrupting the work of yourself and your fellow coworkers by needing constant attention or starts to become destructive in the workplace, your pet should be kept out of the office. You know your pet and their behaviour best and should be able to gauge whether taking your pet to work is right for them.
Pet Proof Your Workspace
Your boss and coworkers are on board, your pet is bathed and ready to go, now you need to prep your workspace! Remove any items that may pose a hazard for your pet. This can include loose wires or electrical cables, candy, cleaning products, and plants that are toxic to pets. Make sure to bring your pet's bed, water/food bowls, leashes, collars, toys, waste bags, and other items your pet may need for their stay. Provide your pet with a comfortable place by your workspace to relax while still under your direct supervision. If you have to leave your workspace often throughout the day, consider bringing a baby gate or kennel for your pet to stay while you're away.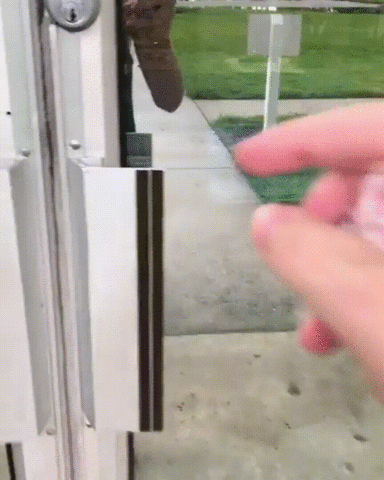 Have an Exit Plan
It's impossible to entirely predict how your pet is going to behave during their stay at the office. If your pet starts to tire of the office life by displaying signs of agitation, anxiety, or becomes withdrawn, consider having a plan to take your pet home or arrange to have a family member or friend take your pet home for you if you can't leave the office. NEVER leave your pet alone in your vehicle while you work. Not only is this incredibly dangerous for your pet, it is also illegal in most states.
We hope you enjoy celebrating Take Your Pet to Work Week with your pet and follow coworkers! To ensure that your pet is ready for the workplace, schedule an appointment with your veterinarian or contact us today.
The Drake Center for Veterinary Care is an AAHA-accredited animal hospital located in Encinitas, CA. The Drake Center loves being a source of information for all pet owners across the country however if you have any questions regarding pet care and do not live in Encinitas, CA or surrounding cities, we encourage you to contact your local veterinarian.